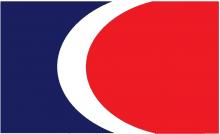 Renaissance Columbus Downtown Hotel, Columbus, Ohio
October 5–7, 2012
Meeting flag description: The NAVA 46 flag reflects the location of the 2012 annual meeting in Columbus, Ohio. The white arc which separates blue from red is taken from the state flag of Ohio on which a red disc is surrounded by a white letter "O," all resting on a triangular blue field. The arc forms the letter "C" representing the host city of Columbus. The colors of the flag are those of the flags of the Association, Ohio, and the United States of America.
Meeting flag proportions:
Meeting flag designers: William M. Belanich, Jr.
Meeting flag host:
Significant Events
The John Purcell Award was added to the Association's awards and honors program, and a memorial gathering was held for the late John M. Purcell Ph.D., FF, WSF.
Presentations
"A Mole Hill of Summary": Evaluating Graphic Representations of Revolutionary War-Era American Flags, Peter A. Ansoff, Va.
Vexillology on the World Stage, David Breitenbach, Ill.
A Look at Traditional Chinese Flags across Eighteen Centuries, Fei Xing Ph.D., China
Reciting the Pledge for the First Time in Utah, John M. Hartvigsen, Utah
Pragmatic Unity and Visual Synecdoche in Tennessee Flag Culture, Steven A. Knowlton M.L.I.S, Tenn.
The Truth in Our Stars:The Symbolism Behind Their Use in Flags, Amy Langston, N.C.
Tapestries of Colored Lights, Terri Maglieri, Mass.
Wayne's World (of Flags), David B. Martucci, Maine
Of Tablecloths and Soviet Relics: A Study of the Banner of Victory (Znamia Pobedy), Anne M. Platoff M.A., M.S., Calif.
"A Symbol of Our Place in the World": The Raising of the National Flag on Canadian Warships, 15 February 1965, Ken Reynolds Ph.D., Ont.
Colors of the Confederacy: Consecration and Controversy, Catherine Wright M.A., Va.
Awards and Honors
John Purcell Award: John M. Purcell Ph.D.+
Captain William Driver Award: Steven A. Knowlton M.L.I.S.
Presidential Citation: Great Waters Association of Vexillology