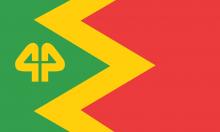 Hilton Garden Inn—Arcadia / Pasadena, Arcadia, California
October 8–10, 2010
Meeting flag description: The flag for NAVA 44 is inspired by the flag of Los Angeles, the region's major city. The flag's fly is red and the hoist green, separated by a serrated gold trupe recalling the "V" for vexillology (the colors on the Los Angeles city flag are red for vineyards, golden-yellow for orange groves, and green for olive trees; they come from the flags of Spain and Mexico).In the hoist are two stylized and mirrored "4"s rendered in the AR DESTINE font that not only denote the forty-fourth meeting of the Association, but suggest angels' wings, recalling the city's name.
Meeting flag proportions:
Meeting flag designers: William M. Belanich, Jr. and John C. Karp, Jr.; Peggy Rose (vector artist)
Meeting flag host:
Significant Event
This was the last annual meeting attended by Whitney Smith Ph.D., LF, FF, WSF, FFI, FVAST. At this meeting President Emeritus Smith announced his intention to transfer the Flag Research Center Collection to the Dolph Briscoe Center for American History at The University of Texas at Austin.
Presentations
The Selection of the NAVA 44 Flag, Peter A. Ansoff, Va.
Rearranging Deck Chairs on the Titanic: A Look at Some Vexing, Vexilliary Vexillisms, James J. Ferrigan III, Nev.
The "Cinco de Mayo" Flag Flap: Rights, Power, and Identity, Scot M. Guenter Ph.D., LF, FF, WSF, Calif.
Utah's Mammoth Statehood Flag, John M. Hartvigsen, Utah
Flag Symmetry Workshop, Christopher Maddish, Pa.
Creation, Significance, Evolution, and Display of the Camerounian Flag, Louis Maxime Meka Meka, Cameroon.
The USS Port Royal Flag: A 21st Century American Naval Battle Ensign, Edward Mooney, Jr. M.A., Calif.
The "Forward Russia" Flag: Examining the Changing Use of the Bear as a Symbol of Russia, Anne M. Platoff M.S., M.A., Calif.
The Treasures of the Flag Research Center, Whitney Smith Ph.D., LF, FF, FFI and Carol Salvo, Mass.
Flags of the Civil Air Patrol, Dean Thomas, Ark.
Awards and Honors
Honorary Membership (for distinguished service to the Association): John M. Purcell Ph.D., FF, WSF
Captain William Driver Award: John M. Hartvigsen; Louis Maxime Meka Meka (Honorable Mention)