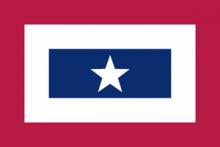 Texas State Capitol, Austin, Texas
October 10–12, 2008
Meeting flag description: For the NAVA 42 flag, the organizing committee selected a historical design originally drawn by Peter Krag.  The flag is a rectangular variant of the Texas revenue service flag, which is a square naval auxiliary flag authorized by the 1839 act that established the Lone Star Flag as the national flag of the Republic of Texas. Krag drew the official art for both the Lone Star Flag and the auxiliary naval flags.  The flag's design is especially appropriate for the meeting in Austin because the meeting celebrates the 75th anniversary of the Lone Star Flag's readoption in 1933.
Meeting flag proportions: 2:3
Meeting flag designers: Peter Krag+, Hugh L. Brady J.D., and Charles A. Spain, Jr. J.D.
Meeting host: Hugh L. Brady J.D.
Organizing Committee
Hugh L. Brady J.D., James T. Liston J.D., Harry W. Oswald, Charles A. Spain, Jr. J.D., and H.P. (Pete) Van de Putte, Jr.
Significant Event
This is the only time the FIAV Board has attended an Association annual meeting outside of an International Congress of Vexillology.
Presentations
Backward in the Dark: Some Observations on U.S. Flag Etiquette, Peter A. Ansoff, Va.
County Flags: Developments in British Vexillology, Graham M.P. Bartram FFI, United Kingdom (FIAV Secretary-General for Congresses)
History of the First Republic of Texas Flag, Thomas Bruce Green III, Tex.
The Saga of the (John) Shaw Flag, Richardson A. Libby, Md.
Flags over Sikkim, Michel R. Lupant, Belgium (FIAV President)
Lions and Babrs and Bears: Analyzing the Flags of Russia's Federal Subjects, Anne M. Platoff M.S., M.A., Calif.
What Is Vexillology?, Whitney Smith Ph.D., LF, FF, WSF, Mass.
Ensigns of New Zealand, Dean Thomas, Calif.
Two Years into a Vexillological Adventure: The Bear Flag Museum, William J. Trinkle J.D., Calif.
Awards and Honors
Captain William Driver Award: Anne M. Platoff M.S., M.A.