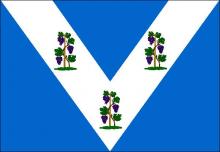 Hilton Garden Inn, Glastonbury, Connecticut
October 12–14, 2007
Meeting flag description: The three grapevines are from the state arms of Connecticut, and the blue-and-white colors recall the Connecticut state flag. The "V" motif symbolizes vexillology. The vector art was prepared by Michael Raney.
Meeting flag proportions: 3:5
Meeting flag designer: Dean Thomas
Meeting host:
Presentations
The East India Company Flag in Philadelphia in 1754: An Unexpected Solution to a Historical Puzzle, Peter A. Ansoff, Va.
The Oregon State Flag,  Carita M. Culmer, Ore.
Flags in Context: A Discussion of Design, Genre, and Aesthetics, Perry Dane J.D., N.J.
The Flag of Americo, Kevin Harrington M.A.(T.), Ont.
American Indian Flags and the Lewis & Clark Bicentennial, Edward B. Kaye, Ore.
The Ensignment of the Romani, Whitney Smith Ph.D., LF, FF, WSF, Mass.
Ensigns of New Zealand, Dean Thomas, Calif.
Unitarian Argentine Flags in the River Plate: 1830s–1850s, Gustavo Tracchia FF, N.Y.
Awards and Honors
Captain William Driver Award: Perry Dane J.D.
Attendees
Peter Ansoff
Hugh Brady
Roberto Breno
Al Cavalari
Dick Clark
Bernard Couture
Joanne Couture
Jim Croft
Carita Culmer
Perry Dane
Martin A. Francis
Carl Gurtman
Kevin Harrington
Charles Helms
Hal Hichborn
Marilyn Hichborn
Stéphane Jean
Bea Jones
Edward B. Kaye
Dick Libby
Jack Lowe
Dave Martucci
Janet Martucci
Roy McGinnis
Henry Moeller
Rich Monahan
Tracy O'Brien
Matt O'Connor
Peter Orenski
David Ott
John Purcell
Jon Radel
Gary Randall
Michel Simard
Randy Smith
Whitney Smith
Charles A. Spain, Jr.
Diane Di Tomasso
Gustavo Tracchia
Bill Trinkle
Peter Turek
Henry Van De Putte
Pete Van De Putte
Gil Vegas
Robert Lloyd Wheelock