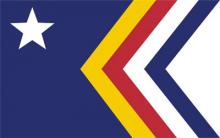 Siena Hotel, Reno, Nevada
October 13–15, 2006
Meeting flag description: The flag is swallow-tailed to denote a decennial meeting of the Association. The blue field, the silver star in the canton, and the golden-yellow stripe recall the Nevada state flag. The three blue-white-red stripes represent the Association; the four stripes together represent the Association's 40th anniversary and are V-shaped for vexillology.
Meeting flag proportions: 5:8
Meeting flag designer: Sophie Rault
Meeting host: James J. Ferrigan III
Presentations
More Flags of Nevada, James J. Ferrigan III, Nev.
10,000 Klicks for Flag Kicks: Flags Over Northern Ontario, Kevin Harrington M.A.(T.). Ont.
Twelve Tribes of Israel, Marilyn Hichborn, Calif.
Social and Business Aspects of Good Flag Design, Peter Orenski Ph.D., Conn.
To Make the Unmistakable Signal "CANADA": The Canadian Army's "Battle Flag" During the Second World War, Ken Reynolds Ph.D., Ont.
Political Aspects of Vexillography, Whitney Smith Ph.D., LF, FF, WSF, Mass.
Flags and Medals, Gustavo Tracchia FF, N.Y.
Awards and Honors
Captain William Driver Award: Ken Reynolds Ph.D.