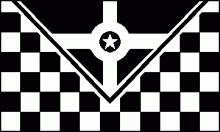 Radisson Hotel City Centre, Indianapolis, Indiana
October 8–10, 2004
Meeting flag description: Based on the black-and-white checkered racing flag made famous by the Indianapolis 500-Mile Race, this flag is frequently associated with that city. Superimposed over the checkered-flag design, also in black and white, is the basic Indianapolis city flag design fit into an inverted triangle. That, in turn, is outlined at the bottom by a black-on-white "V" for vexillology.
Meeting flag proportions:
Meeting flag designer: James A. Croft
Meeting host:
Presentations
The "Pine Tree" Flag in the American Revolution, Peter A. Ansoff, Va.
The Genesis of the Stars and Bars, Devereaux D. Cannon, Jr. J.D., Tenn.
Betsy Ross—An American Patriot and Legend Revisited, John B. Harker M.A., Fla.
The Hawaiian Flag, Patrick Ka'ano'i, Hawaii
American City Flags—The Good, the Bad, and the Ugly, Edward B. Kaye, Ore.
Star Patterns, David B. Martucci, Maine
Changing Perspectives on Vexillology, Whitney Smith Ph.D., LF, FF, WSF, Mass.
The Eagles of Buenos Aires, Gustavo Tracchia, N.Y., and Francisco Gregoric, Argentina
Flags of Meso-America, Rafael Yates Sosa M.D., Mexico
Awards and Honors
Captain William Driver Award: Devereaux D. Cannon, Jr. J.D.