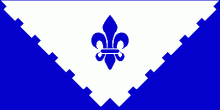 Lowe's Le Concorde Hotel, Ville de Québec, Québec
October 9–12, 1998
Meeting flag description: The flag echoes the design elements found in the flags of both Ville de Québec and Québec, and recalls flags of many vexillological organizations. The white inverted chevron forms a "V" to signify vexillology, the scientific study of flags. The crenelated border is taken from the Ville de Québec flag and symbolizes its status as North America's first walled city. The white area also represents Old Québec contained within the walls, while the blue denotes the Saint Lawrence River on which shores the city was built. The two colors are white and a shade of royal blue (Pantone Matching System 281).
Meeting flag proportions: 1:2
Meeting flag designer: James A. Croft
Meeting host:
Awards and Honors
Captain William Driver Award: Luc V. Baronian
The Whitney (later Whitney Smith Fellow): Scot M. Guenter Ph.D.