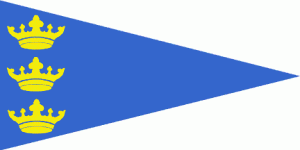 Boston University, Boston, Massachusetts
September 5–7, 1969
Third International Congress of Vexillology
Meeting flag description: NAVA 3 was held in conjunction with ICV 3 and, as such, this flag's colors are drawn from a former Congress flag and the FlAV flag. The flag has a white field with a triangle of royal blue whose apex is at the center of the fly and whose base is along the hoist. There are three golden-yellow crowns vertically aligned at the hoist. The colors recall the blue -and-white banner of the Zurich Congress and the blue and gold of the FlAV flag. The colors are also those of the City of Boston and the Commonwealth of Massachusetts and appear in the flags of some of the organizers, such as The Flag Research Center and the North American Vexillological Association. The three crowns symbolize that this was the Third International Congress of Vexillology. In addition the three crowns are characteristic of Boston, since they appear in many local coats of arms, including those of Boston University, the Episcopal bishopric, and the lawyer's association. Ultimately they derive from the arms of Boston, England, thus emphasizing the close historical ties between symbolism in the Old World and the New. The triangle is a spearhead to new achievements in the field of flag research that the Congress promoted.
Meeting flag proportions: 1:2
Meeting flag designer: Whitney Smith Ph.D.
Meeting host: Whitney Smith Ph.D.
Significant Event
The Fédération internationale des associations vexillologiques (FIAV) was officially organized on September 7, 1969, with the Association as a Charter Member and the first member applicant.