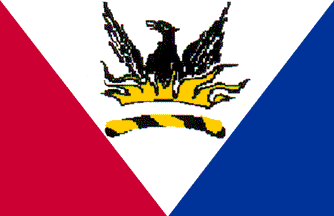 University of San Francisco—Lone Mountain Conference Center,
San Francisco, California
August 12–16, 1987
Twelfth International Congress of Vexillology
Meeting flag designer: The colors red, white, and blue are derived from the host nation, the United States, and one of the organizers, the North American Vexillological Association. The blue and gold colors in the flag are symbolic of the F1AV flag. On the white triangle is a black-and-golden-yellow horse with flames and a phoenix issuing therefrom. This symbol is from the 1899 San Francisco civic flag. The total number of outside feathers on the wings of the phoenix is twelve, indicating this is the Twelfth International Congress of Vexillology, which was held in conjunction with NAVA 21. Its number (21) is signified by adding the twelve wing feathers to the nine flames of the fire. In addition to the annual meeting flag, there was also a NAVA 21 / 1CV 12 "red ensign" for flying on board ships. The "red ensign" consists of the NAVA 21 / ICV 12 flag in the canton of a red field and was flown as a "courtesy flag" from the ship's main masts. As a part of the Congress, two of the tours included ships at anchor in San Francisco Bay.
Meeting flag proportions: 2:3
Meeting flag designers: James J. Ferrigan III, Whitney Smith Ph.D., and James A. Croft
Meeting hosts: James J. Ferrigan III and Richard A. Kenny
Awards and Honors
Captain William Driver Award: Arnold F. Rabbow Ph.D.