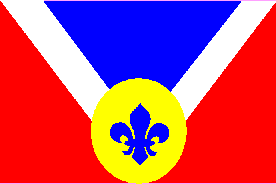 St. Louis University, St. Louis
October 3–6, 1980
Meeting flag description: The flag uses the colors from the civic flag of St. Louis, the host city, and NAVA. Its design is based on the NAVA flag but "differenced" with a blue fleur-de-lys centered on a "bezant" (an heraldic term for a golden disc, which in this case is yellow) displayed at the base of the chevron. The "bezant" represents a coin, which in turn symbolizes the Louisiana Purchase. The f1eur-de-lys is symbolic of the French influence in this city, which derived its name from Louis IX of France. The fleur-de-Iys on a bezant is derived from the current St. Louis flag. The white diagonal stripes represent the Missouri and the Mississippi Rivers which have their confluence at St. Louis. The flag was originally designed for the St. Louis Flag Society which never came into existence.
Meeting flag proportions: 2:3
Meeting flag designer: Dorothy H. Claybourne
Meeting host: Dorothy H. Claybourne
Awards and Honors
Captain William Driver Award: Emmet V. Mittlebeeler J.D., Ph.D.