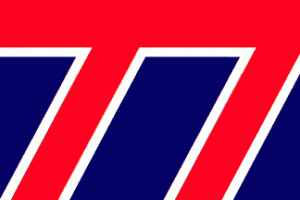 George Washington University, Washington, District of Columbia
June 10–14, 1977
Seventh International Congress of Vexillology
Meeting flag description: The flag has a dark blue field with a red abstract "77," fimbriated white, incorporated into its design. This figure has several symbolic references. First, one "7" signifies this was the Seventh International Congress of Vexillology. Since this flag was also used for NAVA 11, which was being held in conjunction with the ICV 7, the number "11" is represented by the diagonal white upright section of the "77." The double numeral sevens represent the year of the Congress, 1977. Finally, the figure symbolizes the reason the Congress was held in Washington, D.C., the capital of the United States, to commemorate the bicentennial of the adoption of the national flag by the Continental Congress on June 14, 1777. The colors red, white, and blue are found in the flags of the host nation, the United States, and Congress organizer, the North American Vexillological Association.
Meeting flag proportions: 2:3
Meeting flag designer: Steve Stringfellow
Host: Whitney Smith Ph.D.
Significant Event
The flags of the executive-board officers, designed by Whitney Smith Ph.D., were introduced at this annual meeting.